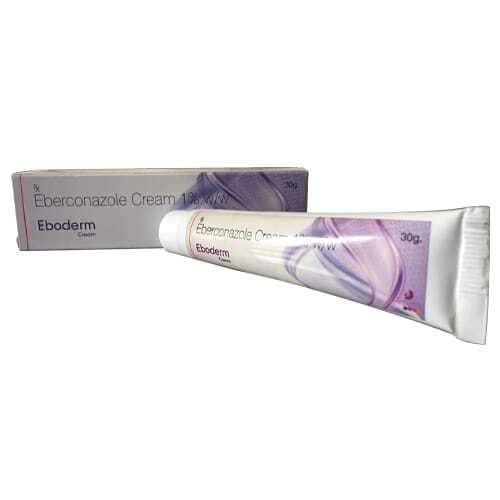 EBODERM CREAM
Company Name: Arozia Care
Composition : Eberconazole 1% w/w
Packaging : 30 Gm.
Formulation : Cream
MRP - 280
Indications:  EBODERM is a broad-spectrum antifungal agent used in the treatment of superficial skin infections caused by fungi.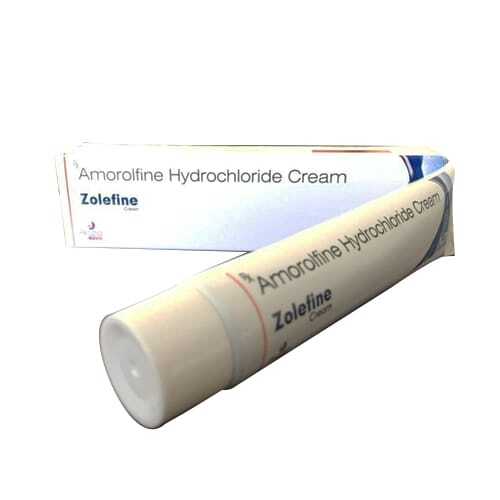 ZOLEFINE CREAM
Registered Brand Name: Zolefine Cream
Composition: Amorolfine Hydrochloride 2.5 mg
Packing: 30 gm
MRP: 240
Indications: Amorolfine is used to treat fungal infections in fingernails or toenails. A fungal nail infection can often spread from a fungal skin infection. The infection causes your nail to become thickened and discoloured, and can become painful.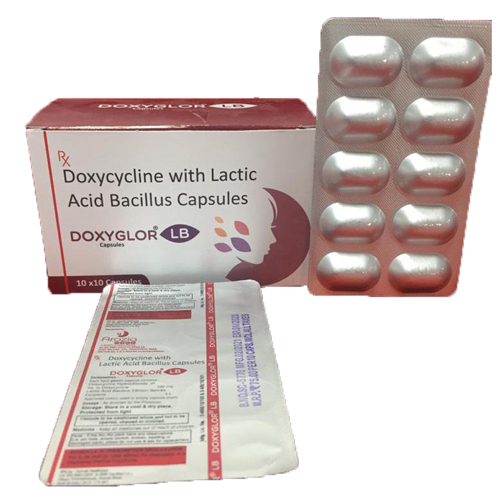 Doxyglor LB Capsules
Registered Brand Name: Doxyglor LB Capsules
Composition: Doxycycline 100 mg.Lactic Acid Bacillus 5 billion spores.
Packing: 10*10
MRP: 750 per box of 100 capsules
What is Doxycycline?Doxycycline tablets come in immediate-release and delayed-release forms. Doxycycline also comes in two other oral forms: Capsule and Solution.
Why it's used?
Doxycycline is used to treat bacterial infections. These can include some skin infections, eye infections, respiratory infections, and more. It is also used as an add-on treatment for severe acne and to prevent malaria in people who plan to travel to areas with certain strains of malaria.
How does it work?Doxycycline belongs to a class of drugs called tetracyclines. A class of drugs is a group of medications that work in a similar way. These drugs are often used to treat similar conditions.Drugs that you should not use with Doxycycline:Penicillin: Doxycycline may interfere with how penicillin kills bacteria.Isotretinoin: Taking isotretinoin and doxycycline together increases your risk of intracranial hypertension.
Storage: Store this drug at room temperature between 69 F and 77 F (20 C and 25 C)Keep this drug away from light.Don't store this medication in moist or damp areas, such as bathrooms.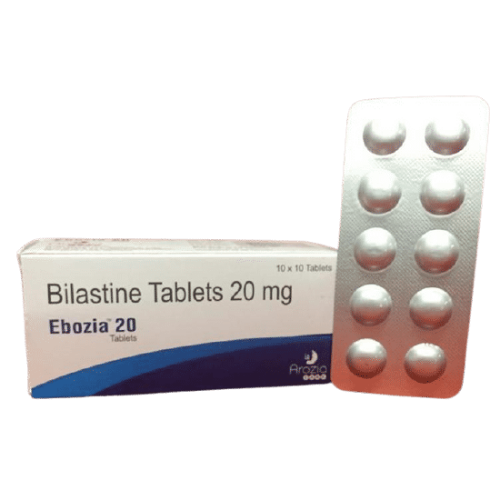 Ebozia 20 Tab
Registered Brand Name: Ebozia 20 Tab
Composition: Bilastine 20 mgMRP: 1200 per 100 tabs.Packing: 10*10
ALU- ALU
What Ebozia is and what it is used for?
Ebozia is an antihistamine that is used to relieve the symptoms of allergic rhinoconjuctivitis (sneezing, itchy nose, nasal secretion, nasal congestion and red, streaming eyes ) and other forms of allergic rhinitis. It can also be used to treat itchy skin rashes (wheals or urticaria).
How to take bilastine?
The recommended dose in adults is one tablet per day (20 mg), also taking into account elderly patients and adolescents aged 12 years or more.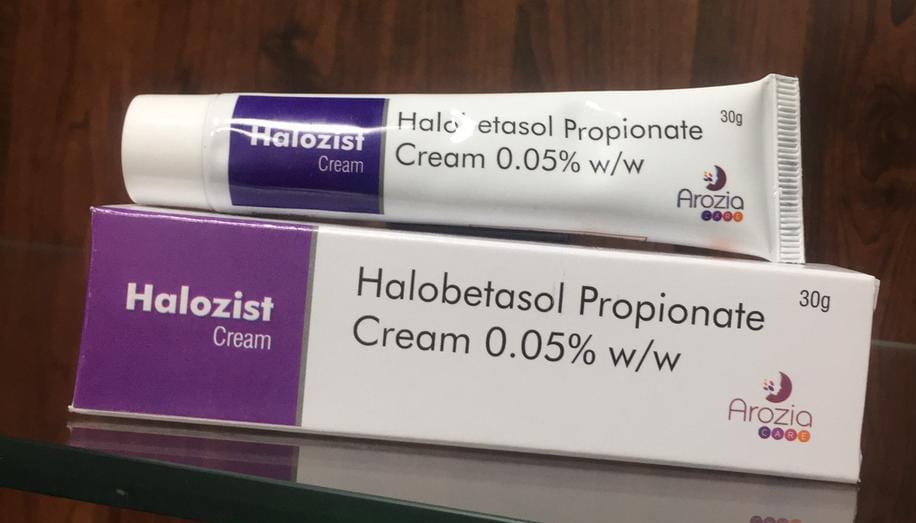 Halobetasol
What is halobetasol topical?
Halobetasol is a highly potency corticosteroid medicine that helps reduce inflammation in the body.
Halobetasol topical (for the skin) is used to treat inflammation and itching caused by plaque psoriasis or other inflamed and itchy skin conditions that respond to corticosteroid medication.
Before taking this medicine
You should not use halobetasol if you are allergic to it.
To make sure halobetasol is safe for you, tell your doctor if you have ever had:
any type of skin infection;
a skin reaction to any steroid medicine;
an adrenal gland disorder;
liver disease; or
if you plan to have surgery.
Steroid medicines can increase the glucose (sugar) levels in your blood or urine. Tell your doctor if you have diabetes.
How should I use halobetasol topical?
Do not take by mouth. Topical medicine is for use only on the skin. Do not use on open wounds or on sunburned, windburned, dry, or irritated skin. Rinse with water if halobetasol gets in your eyes or mouth.
Halobetasol topical side effects
Get emergency medical help if you have signs of an allergic reaction to halobetasol: hives; difficult breathing; swelling of your face, lips, tongue, or throat.
Call your doctor at once if you have:
worsening of your skin condition;
redness, warmth, swelling, oozing, or severe irritation of any treated skin;
blurred vision, tunnel vision, eye pain, or seeing halos around lights;
high blood sugar- increased thirst, increased urination, dry mouth, fruity breath odor; or
possible signs of absorbing this medicine through your skin- weight gain (especially in your face or your upper back and torso), slow wound healing, thinning or discolored skin, increased body hair, muscle weakness, nausea, diarrhea, tiredness, mood changes, menstrual changes, sexual changes.
Common halobetasol side effects may include:
burning, stinging, itching, or dryness of treated skin;
pain where the foam was applied;
redness or crusting around your hair follicles;
stretch marks;
spider veins;
headache; or
cold symptomssuch as stuffy nose, sneezing, sore throat.
Halozist Cream
COMPOSITION :
Halobetasol Propionate 0.05% w/w
Packing – 30 Gm
Mrp – 170
Indications :
This medication is used to treat certain skin conditions (such as psoriasis). Halobetasol helps reduce the itching, redness, scaling, and swelling that can occur with these conditions. This medication is a very strong (super-high potency) corticosteroid.
Halobetasol is a steroid. It works by preventing the release of certain substances in the body that cause inflammation.
Halobetasol Warnings :
Before using this medicine, tell your doctor if you have, or have ever had:
Diabetes
A skin infection
Rosacea, perioral dermatitis, or other skin problems
Glaucoma or cataracts (eye conditions)
An immune disorder
Circulation problems
Cushing's syndrome (an adrenal gland disorder)
A recent vaccination
Measles
Tuberculosis (TB)
Chickenpox or shingles
Intracranial hypertension (increased pressure in the head)
Allergies to medicines
     If you have a skin infection, halobetasol may make it harder for your skin to   heal.
Halobetasol may affect your blood sugar levels if you have diabetes. Be sure to monitor your condition carefully.
Halobetasol shouldn't be used for longer than two weeks at a time.
Using too much halobetasol — or using it for a long period of time — may increase your risk of developing adrenal gland problems.
Tell your doctor right away if you experience any of the following symptoms:
Blurred vision
Muscle weakness
Dizziness or fainting
Fast or irregular heartbeat
Irritability, depression, or anxiety
Unusual tiredness or weakness
Increased thirst or urination
Unusual weight gain
Facial swelling
New or worsening high blood pressure
Loss of appetite or weight loss
         Halobetasol Side Effects
        Common Side Effects of Halobetasol
    Tell your doctor if the following side effects become severe or don't go    away:
Burning
Stinging
Redness
Itching
        Halobetasol Interactions
        Tell your doctor about all prescription, nonprescription, illegal, recreational, herbal, nutritional, or dietary drugs you're taking, especially:
Other topical medicines
Vitamins
Any drug that affects your immune system
Other medicines that contain corticosteroids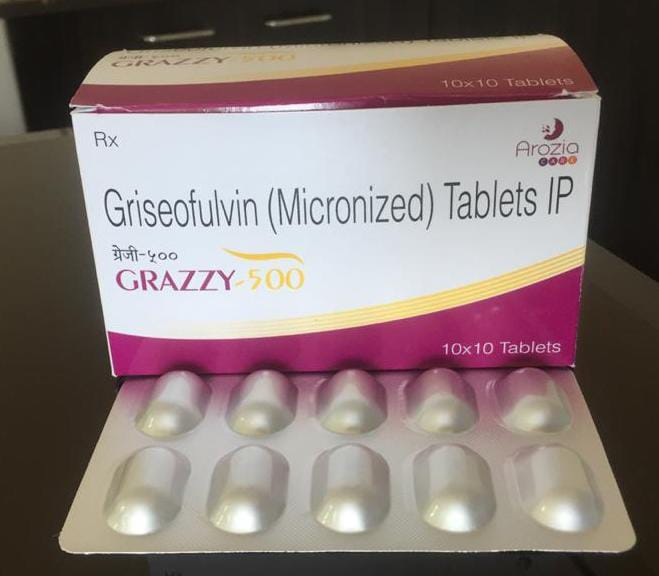 Grazzy - 500
Composition :Griseofulvin 500Packing - 10*10 (Alu Alu)
Mrp - 120 per 10tab
Indications :Why it's used
Griseofulvin oral tablet is used to treat fungal infections that can affect different parts of the body. These include your hair, nails, and skin.
How it works :-Griseofulvin belongs to a class of drugs called antifungal agents. A class of drugs is a group of medications that work in a similar way. These drugs are often used to treat similar conditions.
Griseofulvin Warnings Allergy Warning :Griseofulvin can cause a severe allergic reaction . Symptoms can include :Trouble breathing Swelling of your throat or tongue. Don't take this drug again if you've ever had an allergic reaction to it. Taking it again could be fatal (cause death).
How to take Griseofulvin :-This dosage information is for griseofulvin oral tablet. All possible dosages and drug forms may not be included here. Your dosages, drug form, and how often you take the drug will depend on :Your Age The conditions being treated.
How severe your condition is. Other medical conditions you have. How you react to the first dose .
Storage :Store Griseofulvin oral tablets at room temperature between 59 degrees F and 86 degrees F (15 degrees C and 30 degrees C)Keep this drug away from light. Don't store the tablets in moist or damp areas, such as bathrooms.